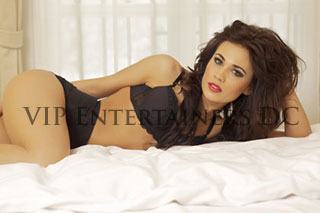 Have you ever had a date where you were totally submissive to your partner? Have you always wondered what it would be like to be "ruled" by someone with the power to do so? Do you want to find out more about this type of experience? Or, are you a pro at this type of sexual play and you just want to find a woman to fill the role needed? Whether you have had a dom/sub session before or not, I'm here to tell you more about what you can expect when you book a date with me (Cassidy) or one of my fellow escort workers.
Pick Out Your Partner
Before you book a date with one of our dominatrices, you'll want to find a woman that you'll be more than willing to listen to during your session. This requires that you look through profiles on our page to find a sexy lady you will bend over backward for. If you don't have a connection with a woman, you will not be as apt to listen to her demands. Since the whole point of being a submissive is to take orders, you want to have a connection with the woman you select. Read the information each of our ladies provides and take a good look at their pictures. Do you want to see some of them unclothed? If so, put them on the "maybe" list. Do you like the information they provide? Move them on up as a possibility. Call or email and inquire about availability. There, you did it...your date is going to arrive soon!
Get Ready For A Night Of Fun
You may want to go out with your date before you have some "alone time". I personally believe this is a fabulous idea. It allows you to get to know the personality of each other and it will make it easier to get into the dom/sub actions when you get back to your place. Your date will try out a few simple demands while you are out to see if you comply. This is as easy as getting her a preferred drink or getting up on the dance floor when she requests you to. If you don't do as she says...watch out...you may have to pay for that when you get back to your place!
Let Your Dominatrix Rock Your World
To get what you want from your escort, you have to meet her demands...perfectly. This could be a tall order to fulfill, but we guarantee you'll be pleased with the results. Make sure to listen, do exactly what she says, and don't complain! It's a rough road to get through to get the prize at the end...but it is well-worth your attentiveness and receptiveness. Are you ready to meet your dream lady? All you need to do is check out those profiles to book a date that will make sure you are satisfied when all is said and done.